Mark Jefferies team leader ,  Chris Burkett, Steve Carver, all British champions, and Chris Heames (ex Tornado jock) together they form the internationally respected Global Stars aerobatic team.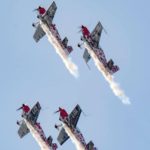 The Global Stars team provide spectacular formation air displays or solo air displays. For 2021 Mark flies the very latest, highest performance EXTRA 330SC.  Typically the Global Stars team lead by Mark performs at 4-6 International display venues per year. (pre pandemic) The last team display was WINGS INDIA in Mach 2020.
We will put on a stunning, world-class air display. Mark Jefferies has achieved great success and worldwide recognition as one of the most accomplished aviators in the UK; including 1st -Zhengzhou 2015 World Air Masters (WAM), 3rd-Dazu 2011 WAM, ranked 8th in the World Aerobatic Championships in 2007 and 10th in 2009. Nine times British aerobatic champion (Advanced & Unlimited). Mark Jefferies has spectacular manoeuvres, tumbles and spins in the Extra 330SC leaving pilots and spectators alike saying "how did he do that?" A flying display your audience will never forget… No show too large or small to attend. Corporate, Weddings and private parties a specialty – it's not as expensive as you might first think and far better than fireworks. I've even got fireworks on the wings !
Mark & team have flown in these countries in the last few years:- Al Ain UAE, Avalon Australia, Ahmadabad India x 2, Bahrain, Sanicole Belgium, Anyang + Dazu + Deyang + Tiayan + Zhuhai + Zhengzhou China, Dubai, Finland, Hyderabad + Vijayawada India, Iceland, Lithuania, New Zealand, Malta, Maribor Slovinia, Romania, Roskilde Denmark, Tasmania, Oosterwald + Volkel Holland, Wanaka New Zealand.